Welcome to your new project
---
This is a markdown-compatible section designed to allow you to provide information and instructions to the viewers of your project.
Feel free to edit this section at your leisure by clicking the icon in the top right!
---
What is a project?
A project encapsulates all of the files and datasets for a machine learning model. You can also discuss and manage your work within the project.
You can create private projects to work solo or with invited collaborators, or create public projects where anyone can view, download, and analyze your dataset.
---
What do I do now?
Add collaborators

Go to the 'members' tab and type in the username of DataTorch accounts you wish to add as collaborators to your account.
Upload Files

Click 'Files' in the menu on the left, then drag your data to the provided cloud storage, or click the green plus sign to attach your own.
Create A Dataset

After uploading or attaching files, click the 'Datasets' tab to parse your data into sets.
Create Labels

You can create labels directly in the annotator, or design your ontology in the 'Labels' tab. Furthermore, you can enable metadata for your annotations in the 'Settings' tab.
Annotate Data

Clicking on files in the 'Datasets' tab will bring you to the annotator, where you can select a class in the upper left hand corner and annotate using the tools in the Toolbar.
Export Annotations

To export annotations, go to 'Exports' and click 'Create Schema'. Define your parameters, or leave it blank to export all. Once the schema is made, click on it and run it. The job will be sent to a DataTorch Agent to be completed.

Once it is completed, you will be able to click on the job and a 'Download' button will appear, allowing you to download your annotation.
---
More Resources
Quickstart video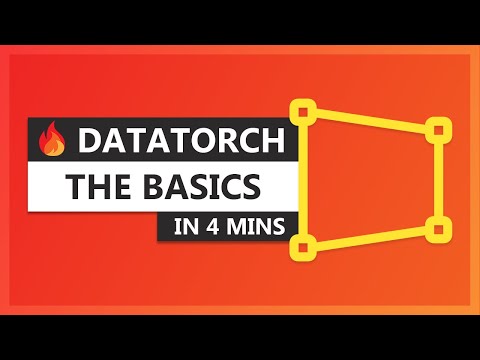 ---